Pioneer Century
SATURDAY, JUNE 2, 2018    REGISTRATION NOW OPEN!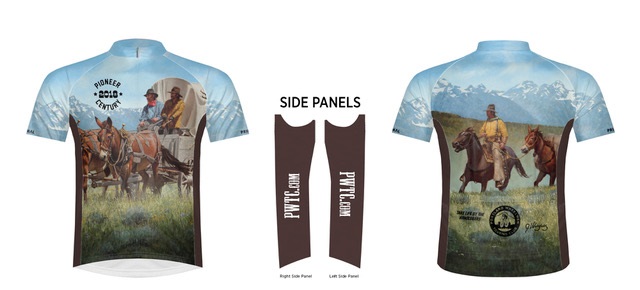 Pioneer Century pre-registration as well as pre-orders for the 2018 event jersey will be available at the January 28 Awards Banquet.
ABOUT THE PIONEER CENTURY
The Pioneer Century is named to reflect the history of the Champoeg, Canby, and Molalla areas. The ride starts from the Clackamas County Fairgrounds – 694 NE 4th Avenue, Canby, Oregon. Rich farmland and timber brought the pioneers to this area and this same beauty draws cyclists today. The Pioneer Century offers great routes whether you seek a social ride or personal best.
LUNCH OPTION
Thrive Sauce and Bowls will be in attendance and offering a number of select and flavorful menu items at the 2018 Pioneer!
Hours of service are 12:30pm – 3:30pm. Service type is "Vending style" where meals are purchased direct from Thrive (unless, you purchase our "Bundle and Save" (ride admission, event jersey, and Thrive meal ticket) via our 2018 Pioneer Century Eventbrite page (goes live on Monday, Jan. 29). After your meal, peruse the various booths at the fairgrounds including Friends of Historic Columbia River Hwy, St. Josef's Winery & Beer Garden, and other vendors.
Rice bowls are $8 for half and $10 for full (plus price of protein: 
Tempeh $2, Chicken $3, Steak $4)
. 
Kashmir Bowl – Indian yogurt, house chutney cashews, basil

Thai Bowl – Coconut curry, pickled veg, fried shallot, peanuts, cilantro, mint

Japanese Bowl – Teriyaki, picked veg, fried shallot, sesame seeds, seaweed, cilantro

Kale Tahini Caesar Salad – Parmesean, Scallion & Fried Olives
Kale Caesar Salad will also be offered at $5 for half and $7 for full (plus price of protein: Tempeh $2, Chicken $3, Steak $4).
VOLUNTEER AT THE EVENT
Many volunteer positions are available to support the event. Go to SignUp Genius to view open positions and sign up!
A testimonial from one of our 2017 Pioneer Century riders:
"I finished the Sawtell metric century yesterday. I went for it, after all that complaining and procrastinating.  Naw. Just wanted to tell you I did it, thanks for the support and communication about it all. I'm proud, tired and sore, and looking forward to my next ride. PS I sure was impressed with the organization of the ride and the great route markings. Take care. Maybe see you down the road."
2017 SPONSORS:
We would also like to acknowledge these non-profits that we support:
Thank you to these non-profits for their continued support and assistance at rest stops for the Pioneer Century:
See photos and an article from a previous Pioneer Century on BikePortland.org.
See a video from the Pioneer Century. Past Pioneer Century photos available here. Jonathan Maus's  article on the Pioneer Century.