Jim O'Horo Memorial Columbia Gorge Explorer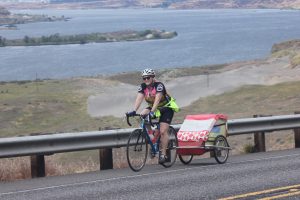 A moderately paced, 4-day, self-supported bike camping tour of the spectacular Columbia River Gorge National Scenic Area, covering 51-65 miles per day, through breathtaking but sometimes challenging terrain. The tour leaves Vancouver, WA on Friday, May 26, traveling east in Washington, crossing the Columbia River at Hwy 97, and returning to Vancouver on Monday May 29, by riding west in Oregon. The tour allows plenty of time for sightseeing at the many cultural, historical, and scenic points of interests.
If you want to try bicycle camping, here's an inexpensive opportunity to experience some of the best scenery in North America. This tour has run for 16 years to rave reviews. Although this is a good match for both first-time and experienced "tourers," riders need to be physically prepared for the daily mileage and sustained hill climbing.
Watch a video of the 2016 tour here
Watch a video of the 2014 tour here
Day 1. (51 miles) Vancouver to Home Valley Park. We'll head out via local roads through Camas and Washougal, along forested Washougal River Road, then past Beacon Rock, Columbia River Gorge Interpretive Center, Bonneville Dam, and the town of Stevenson, taking in the views of scenic Gorge peaks before camping at a small county park just past the turnoff to Carson.
Day 2. (63 miles) Home Valley to Deschutes River State Park. Continue past stunning cliffs and peaks, through a series of tunnels and passing Catherine Creek scenic area, the small towns of Bingen and Lyle, and the pictographs at Horsethief Lake State Park. Then climb through open hills with expansive Gorge views to Maryhill Winery and Maryhill Museum of Art (extensive collection of Rodin sculptures) before crossing the Columbia into Oregon and heading to our campsite on the Deschutes River.
Day 3. (55 miles) Deschutes SP to Viento State Park. Warm up with a short ride to The Dalles for a hearty breakfast. Then we'll join the Historic Columbia River Highway for the steady climb to the Rowena Crest viewpoint, continuing on a car-free multi-use path through the spectacular Mosier tunnels, then via Hood River to our forested campsite.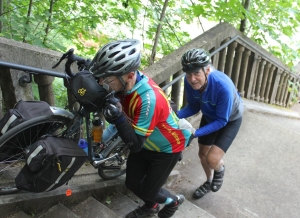 Day 4. (64 miles) Back to Vancouver, mostly along the Historic Columbia River Highway, including recently added car-free paved trail sections, through Cascade Locks, past seven waterfalls including Multnomah Falls, with a climb to yet another spectacular viewpoint at Crown Point before descending to ride along the Columbia and back to our starting point.
Things to Know
This tour was designed so that first-time bicycle campers can try loaded touring at minimal expense. Participants pay $15 with registration that covers the cost of our reserved group campsites on all three nights.
NO SAG is provided for this tour. The tour is self-supported; you must be able to ride the indicated distances with your gear and be able to do basic repairs yourself including fixing a flat and replacing a dropped chain. You need your own emergency contact and backup plan in case of severe mechanical failure or injury. Make sure you and your bike are in proper condition for the ride. However, if you're inexperienced at self-supported loaded touring, you need not worry. In fact, this is a terrific opportunity to learn from more experienced touring cyclists, including some who have ridden cross country. Several riders with mechanical skills will be on the tour, and may be able to help if you get into difficulty. Riders may choose to find a partner or two to share gear and lighten each other's load.
Yes, there are sustained hills, but no long grade exceeds 7%, and at the expense of missing some of the scenery, three of these can be bypassed. The route has been designed to take advantage of quiet roads and multi-use paths at every opportunity, but there are still stretches where it is necessary to ride on the shoulder of a highway or freeway.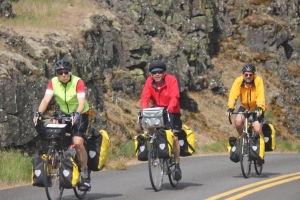 Although designed for camping, the route includes enough motels and B&Bs to provide other lodging options in the case of severe weather. Each day provides multiple opportunities to stop at cafes, restaurants, and grocery stores (although there are no restaurants at the campsites); some riders choose to carry most of their food, while others prefer to minimize their load and eat out as much as possible.
Starting in the spring, registered riders will receive email newsletters containing suggested gear lists and other information including the cue sheet and detailed itinerary. There's so much to see and do on this route you can't possibly do it all, so we'll supply a laundry list of possibilities including many historic sites, side trips to parks, hot springs, and several museums.
For more information, read our FAQs. Check out a former ITINERARY for the ride. In addition, the downloadable ODOT Columbia Gorge Bike Map provides a useful overview of much of the area we'll cover.
The ride leaves Friday, May 26, 2017, between 8:00 am and 9:00 am in small group staggered starts, from Larson's Bakery, 13411 SE Mill Plain Blvd., Vancouver, Washington. Riders must sign in at the start.
Ride Registration
PWTC membership is required.
There are two ways to register:
OR print, complete and sign registration form and mail with a check. Non-refundable shared camping cost of $15 per person is to be submitted along with the completed registration/waiver form.
For additional information or questions, email or call ride leader Dave McQuery at [email protected] or 503-747-6575.